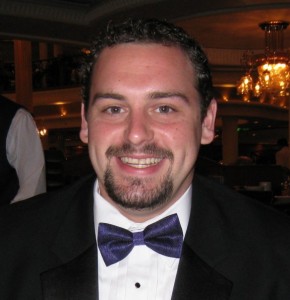 Allen currently resides at the Leysin American School in Switzerland where he teaches I.B. Theory of Knowledge, foundational acting, directing and design. He also teaches private voice and directs the extracurricular musical theatre and acting programs.
For LAS he directed and designed The Dining Room, Urinetown and The Static. Immediately prior to moving to LAS Allen taught at The Hotchkiss School where he directed Ragtime, the musical, Dog Sees God, Into the Woods, The Laramie Project, and Runaways, the musical among others. As Resident Designer and Technical Director for Hotchkiss he production designed Metamorphoses, Picasso at the Lapin Agile, and The Importance of Being Earnest among others.
When not traveling the world, grading class projects or teaching classes, he manages to find time to design in, and around, New York City and helps to manage the Chain Theatre (which he designed chain-theatre.org) for Variations Theatre Group.
NYC: Reasons to be Pretty, What's in a Name, Venus & Mona, A Christmas Carol, Prisoner of Love, Fool for Love, The Shape of Things (Variations Theatre Group) Antigone, Hamlet, Titus Andronicus & Romeo and Juliet (The Queen's Players) We All Fall Down (Pop Mega Hot Theatre Factory) Tartuffe, Damnée Manon, Sacrée Sandra, Largo Desolato (Beyond the Wall Productions)
Regional: Hedwig & the Angry Inch (Syracuse Stage & North Star Productions,Rochester, NY) M. Butterfly [assistant to Dawn Chiang], (Syracuse Stage & Charlotte Repertory Theatre)
Allen is a BFA Theatre graduate of Syracuse University.